Journey into the Past
Finding the research material for Lady of Hay after all these years has been quite a problem. The photo archive was easier - a lot of them were in albums and we have selected a few here to go up as representative of the collection. The higher res pics can be found under the PHOTOS tab.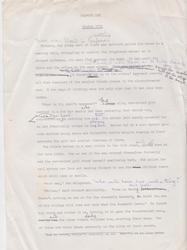 Page 1. Chapter 1. Draft 1.
My great surprise has been how comparatively clear and bright most of these faded snapshots are once they are up on screen. Most are not particularly well composed or of high quality - I am no photographer. They were taken as "aides memoires" for the locations, the atmosphere, the texture of the past. And they still work. I was astonished to find how well they brought to mind those early, exciting, eager visits. And how close they made me feel to the historical characters in the book.
The research material has been harder to marshal. It is scattered in boxes and notebooks, in attics and barns - I made extensive use of record cards in those days, an easy way of bringing information to one's fingertips - but not an easy thing now to transfer to electronic wizardry. (Or not if I want time to write a new book.) My bibliography is on cards, my "social history" is on cards, the character notes are on cards, my notebooks are faded, and sadly I still haven't found a lot of them.

No detail was too small. I was even taking samples of the undergrowth.
Though the historical story of Lady of Hay was only half the book it was the bit that took the most research by far. I tried very hard to make both the chronology and social history as accurate as possible. I probably did far too much research.In later books I have learnd to be more selective. Lady of Hay and my next two books were as much biographies as they were novels and they were long books in an age which adored long and "fat" books. They were big stories!
The modern side of the story was far easier to research. I new the London where Jo and Nick lived. My parents lived there and my first job was there. To research the past-life side of the book was a matter of extensive reading, interviews and a bit of practical experience. Some of my own past-life moments were, as people often find, banal or puzzling. One of them was exciting and upsetting. I have never talked fully about it. It was taped (long gone) and one day I always meant to write the story (it checked out on preliminary research) but strangely I still find it too upsetting to think about much and I wonder now if I ever will.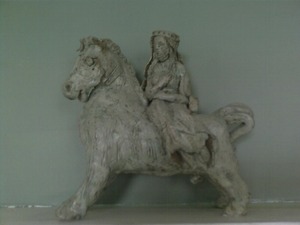 Statuette of the Lady of Hay made for me by craftsman potter Adam Dworski
I have found several more boxes of notes and files and we will put more material up from time to time, so check back every so often to see!