The Tower of London is one of the most charismatic, dramatic places one is likely to find. To go there after the gates have closed and the crowds have dispersed is magical and at the same time strangely unsettling. Floodlights, at first glance so utterly beautiful, also bring out the echoes and the more sinister shadows. There on February 24th to talk with Alison Weir about the Tower's more grizzly history and, above all, some of its ghosts.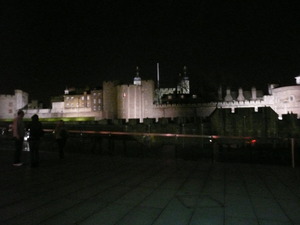 The White Tower in the centre of the great fortress has an aura of chilling beauty.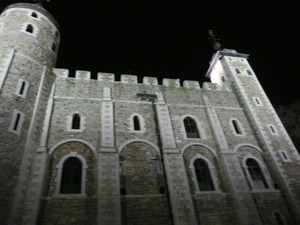 Cold, serene and uncaring.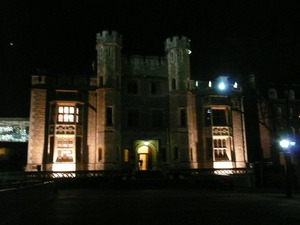 It is easy to imagine one is seeing ghosts everywhere. Who is that in the doorway?
Although at first we hoped to take the audience on a tour of the places where there had been sightings of some of the better known ghosts, the authorities decided that the size of the crowd made this impossible (you've guessed it, health and safety) so we gave the presentation in the large upstairs room of the New Armouries Building. The tickets had sold out within three hours of the box office opening, so it was with mixed feelings of glee and disappointment that we settled for the indoor site.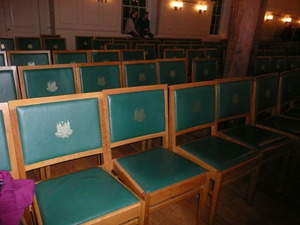 Seating for 200 – before they arrive.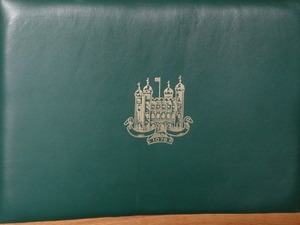 Eventhe chairs have insignia!

Fate decreed that we went outside anyway, when a member of the audience was aken ill and we were asked to leave the building while the ambulance men did their thing We foregathered around Tower Green, the site of the scaffold.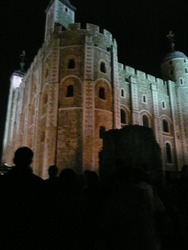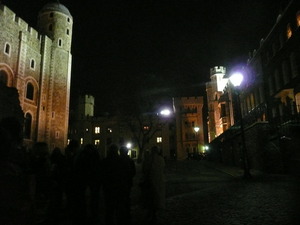 Then back inside to resume our talk.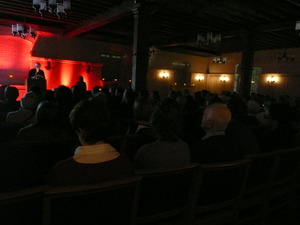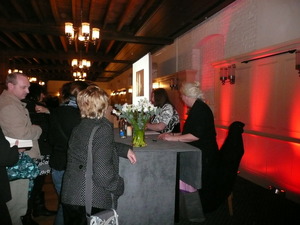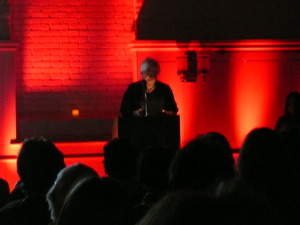 The inside of the room – red lighting and candles add to the atmosphere.
At the end we were served wine and delicious canapés, which was a great treat, and finally got the opportunity to talk to the audience and to the wonderful yeoman warders, one of whom told me he had heard a review of Lady of Hay on the BBC World Service while bivouacking in the desert during the 1st Iraq war. He said he sat up and listened when he heard the word Hay because it was his home town. When he came home he bought a copy of the book and had, since, read all the rest!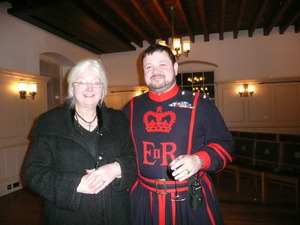 Canapés consumed it was time for some hard book buying...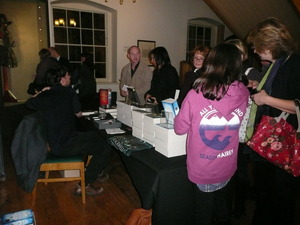 and signing.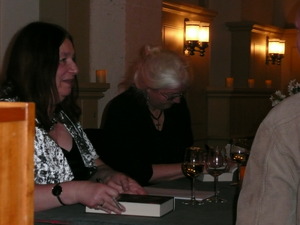 Don't count the glasses!
At the very end, when the audience had gone and there were just a very few people left we had the chance to look at some of the architectural details in the silence of the night.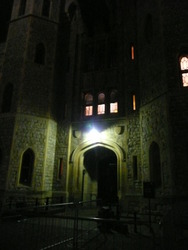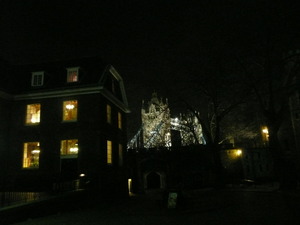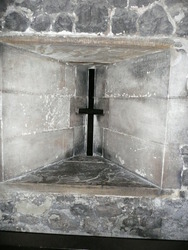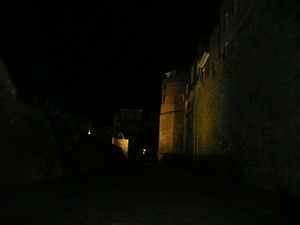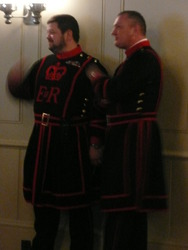 Thankyou to the Beefeaters who looked after us so well.
And thanks to Carole Blake for most of the photos