Well, selling a house and then moving 250 miles certainly distracts one from the day job! Probably a good thing every 20 or 30 years or so. One is suddenly being very physical and getting remarkably fit (apart from the nervous breakdown, blood pressure and general panic attacks) after all those months each year sitting at the computer! And what a chance to sort out and consolidate.
But now it is back to the real world. We are settling in and in this lovely spring weather at last getting a chance to admire our new garden. The new fitted bookshelves are in place at last, so I can start to unpack the majority of the book boxes. The work-in-progress books and the about-to-be-work-in-progress books were stashed in the boot of my car from the first moment they were liable to get lost, and are all already ensconced rather smugly in my new study on the old wobbly but serviceable bookcases, which are ready-at-a-moment's notice bookcases. Not even flat packed anymore after my efforts at assembly which used to involve the last resort of hammer and nails when the going got rough!
After taking a couple of months off writing to accomplish all of the above I am now suddenly catapulted back into what used to be my way of life. Editing, checking, double checking the current story, The Darkest Hour, which will appear in book proof any day now, and making notes for the new book which is hovering in the background (inevitably waking me at 4 a.m. with the knowledge that however tired my eyes are I have to force them open, grope for my notebook and write the latest inspiration down before it disappears into the dream world which is still hovering over my head). I have been trying very hard not to give the new characters names yet as that will establish them as real and they will take it as a sign that the starting flag has been raised. They are already jumping up and down trying to get their story started and I am already collecting a new shelf of history books – I love that bit, the excuse to buy books, some new some old, which are going to be worked to within an inch of their lives. Kindles are no use at all for research, in my experience, too unwieldy for flicking back and forth, for checking indexes, too completely unsuitable for stuffing full of book marks and coloured arrows. And oh joy I am going back to a medieval period. Much as I have enjoyed all the other excursions into the past over the years I was unprepared for the sudden rush of nostalgia when I turned back to my medieval library.
Having said that, I was amazed at how much I have enjoyed writing The Darkest Hour which is set (or half of it is) during the Battle of Britain. Such a change from what I think of as proper history (i.e. before the invention of the combustion engine) and with my own dad as the chief source of much of the history. And, let's face it, I can remember, not the war, but hearing so much about it first hand from my father's generation as I grew up. He flew a Spitfire then, and on his 90th birthday he flew one again and we all watched his flight and even better the size of his grin when he landed.
I am so looking forward to publication day, on July 3rd – and so is he. By then he will be 96 .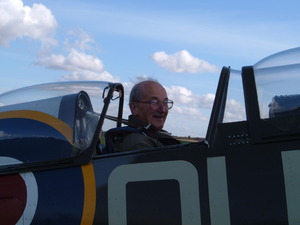 So, back to unpacking, and at last, cautiously to the naming of characters. Once I used a baby naming book. Now of course there is the internet and date-appropriate names. I will concede that is one piece of online research which is darned useful!