What a week! On Tuesday 28th June I was invited to speak to a gathering of the Friends of Hay Castle in one of the surviving rooms of the castle itself. With its huge medieval fireplace and views across to the mountains even with the room full of guests enjoying the wine and delicious nibbles the echoes were almost overpowering for me. This place has meant so much to me over the last thirty years. It launched my writing career besides being the setting for part of my first novel Lady of Hay whose 30th birthday we were celebrating, and Sleeper's Castle which was being published for the first time! I couldn't help remembering the years before Lady of Hay's publication when I was researching and writing the book before I knew it ever would be a book. In those days the castle was the home of Richard Booth's book empire (and indeed the seat of his kingdom when he was famously crowned king of Hay. I found myself almost overcome by nostalgia for those old days when I was an unpublished, desperately wanting-to-be novelist, slowly building a portfolio of short stories and a huge mountain of dreams.
And so dreams and castle came together again 30 years later in Sleeper's Castle.
On Wednesday 29th I was in London for an event at Waterstones in Covent Garden where I met a wonderful gathering of my readers who had travelled from far and wide. We were treated to some pretty fabulous cupcakes and a suitable supply of champagne and I spoke about the books and answered their questions ( I hope even vaguely to the point!)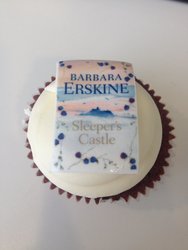 Cupcake!
I spent the night with my agent and long-time friend, Carole Blake, and we talked and reminisced late into the small hours, heading off the next day to a very special meeting with my publishing team at HarperCollins HQ (more champagne) before adjourning to the top floor of their building with its truly breath-taking views across the Thames and virtually the whole of London for the launch party proper. More cupcakes, a birthday cake for the two books, Lady of Hay, the old lady, and Sleeper's Castle, the newbie. And more champagne. It was a very special meeting with so many friends, past and present, including my original editor Maggie Pringle, the brilliant and perspicacious 'gambler' who first spotted the potential of Lady of Hay and commissioned the book after dozens of other publishers had turned it down!
With editors, past and present: Maggie Pringle, Rachel Hore and Kim Young
Onwards to hugely enjoyable party 'History in the Court', hosted by David Headley at Goldsboro Books for history book lovers and writers and publishers, always wonderful occasions and coincidentally and serendipitally on the same evening; and finally to dinner with my editor, Kim Young where she presented me with a leather bound copy of Sleeper's
Castle and a wonderful scrap book of lovely comments about my books from friends and readers.
And so, as Pepys would say, to bed, completely and utterly overwhelmed at the generosity and kindness of everyone who made my day so happy.
(My goodness they have stamina, these people in the publishing world!)